Dr Asif Qasim, Consultant Cardiologist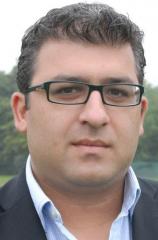 Dr Asif Qasim is a consultant cardiologist providing national health service and private practice heart specialist services in central and south London.
NHS Consultant Interventional Cardiologist
Croydon University Hospital (Lead Consultant Cardiologist)
King's College Hospital (Honorary Consultant Cardiologist)
Qualifications
BA, MB BChir, MA, PhD, FRCP
Interventional Cardiology
Dr Qasim has expertise in all aspects of percutaneous coronary intervention with special interests in intra-vascular ultrasound and complex interventions, including left main coronary artery disease, bypass graft intervention and acute coronary syndromes.
Angiography and interventional procedures can be performed by the radial (wrist) or femoral (groin) approach. This relative merits of each can be discussed prior to treatment.
General Cardiology
Diagnosis and management of all aspects of general cardiology including:
Chest pain, breathlessness and palpitations

Heart rhythm management and permanent pacemaker implantation

Echocardiography and trans-oesophageal echo

Heart failure

Hypertension

Screening for coronary disease

Athlete cardiac risk assessment

Sports Cardiology
Dr Qasim graduated from the University of Cambridge, with prizes and awards for research and clinical medicine. He trained in general medicine and cardiology in Cambridge, Birmingham and London .
He returned to Cambridge to complete a PhD examining cardiovascular stem cell biology, with research papers and presentations at scientific meetings in Europe and north America. He has published papers in peer reviewed journals on a range of interventional and general cardiology subjects. Dr Qasim remains active in cardiology research and is a senior investigator for a number of clinical trials.
Dr Asif Qasim has a high level of expertise in interventional cardiology, and performs all aspects of coronary intervention. He was awarded an interventional fellowship spent a year working in Milan with a world-leading team developing new techniques and research. He continues to train other doctors in interventional cardiology techniques.
Dr Qasim is a member of the following professional organisations:
Fellow of the Royal

College

of Physicians

British Medical Association

British Cardiovascular Society

British Cardiovascular Interventional Society

European Society of Cardiology
As well as active clinical practice and cardiology research, Dr Asif Qasim has a wide-ranging educational role. He has developed a revision program for medical students, which is now taken every year by 1500 final year medical students in the UK. He is also the founder director of the medshr.net online network that provides education and training for in all aspects of cardiology for doctors around the world.