Sports Cardiology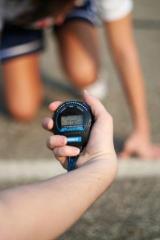 Sport and exercise provide enormous benefits to individuals and the community. Sport does not cause any pathological conditions but sports cardiology considers:
Screening for cardiac conditions with a risk of sudden death during sport

Physiological heart changes for high level athletes

Sports participation for people with heart conditions

Cardiac effects of steroid abuse and other banned substances

Resuscitation facilities for sports clubs and teams
There are a number of inherited and congenital conditions that may not affect an athlete's performance but lead to a risk of sudden cardiac death. Recent press coverage of the death of a professional footballer in Scotland and Cambridge University oarsman emphasise the tragic effects of such conditions.
Whilst Italy and many states of the USA screen athletes for heart conditions, comprehensive screening for cardiac risk in athletes is not currently performed in the UK. A screening program for British Olympic athletes is underway and this has also provided useful new information on the response of the heart and circulation to endurance and high level training.
Please contact Dr Qasim's PA to make an appointment for cardiac screening, or for further information on screening and resuscitation equipment for sports associations, clubs and teams.
Tel: 0208 401 3812
Fax: 0208 401 3834
Email: pa@privatecardiology.com